*Recipe Republish with permission from So Oddly Dreamlike 
Here's the recipe (adapted from the recipe on Bake, Cook & Love) everyone's been asking for, ever since I posted photos on my Instagram.
INGREDIENTS
700g Pork Belly
Dry rub
1tsp pink sea salt
2tsp garlic salt
1tsp five spice powder
1 tsp ground white pepper
1-2 tsp of rosemary
Half a fresh lemon
METHOD
First, I cleaned the pork belly of any excess hairs on the skin, gave it a light wash and then cut lines on the meat portion like this. I think that more of the dry mix will get into contact with the meat in this way.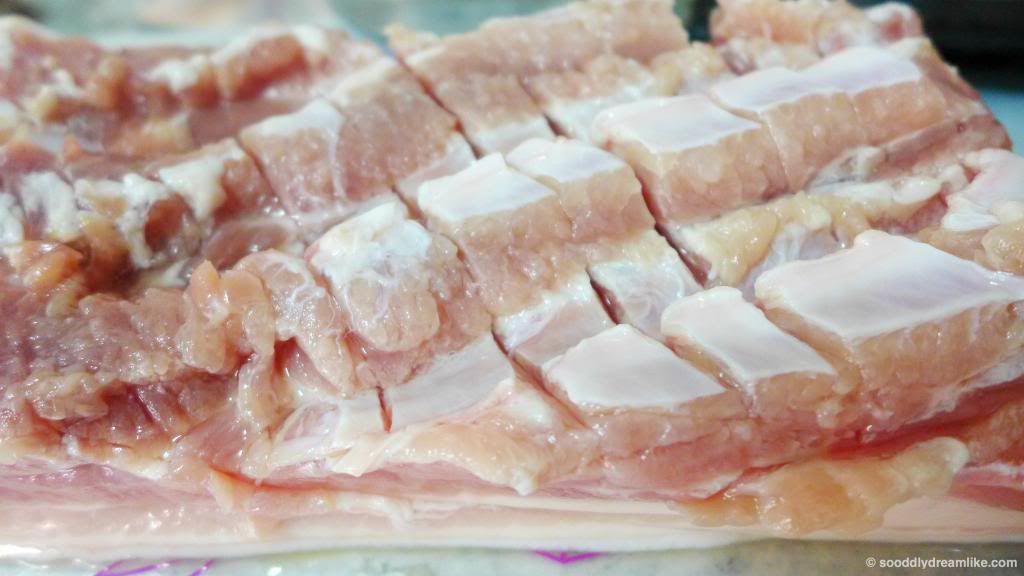 Next cooked my pork belly in water while I prepared the dry mix (mix all the ingredients up, that's it!).
For the dry mix, I added rosemary on purpose and the salt accidentally (true story). The recipe on Bake, Cook & Love didn't require more salt than the garlic salt but I added an additional 2 tsp of pink sea salt in a moment of blurriness. It turned out just a little salty but so far, I've tried making again without and it didn't taste as good so I'm including that in my ingredient list but lessened to 1 tsp.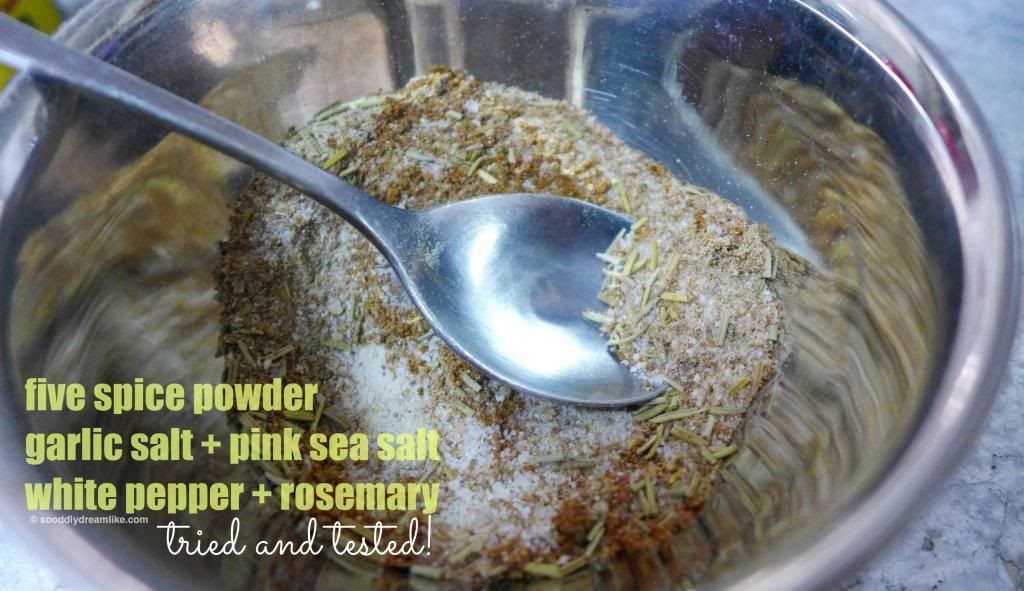 I wasn't really sure how "pork belly cooked thoroughly" looked like but mine was cooked for around 8-10 minutes, or until it looked like this:
When I was happy with my cooked pork belly, I removed it from the water and let the meat air dry for 3 hours, forgot to drain off the liquid (true story) and then rubbed in the dry mix. I think the air drying bit helps make the skin a little tougher to make your life easier for the next step.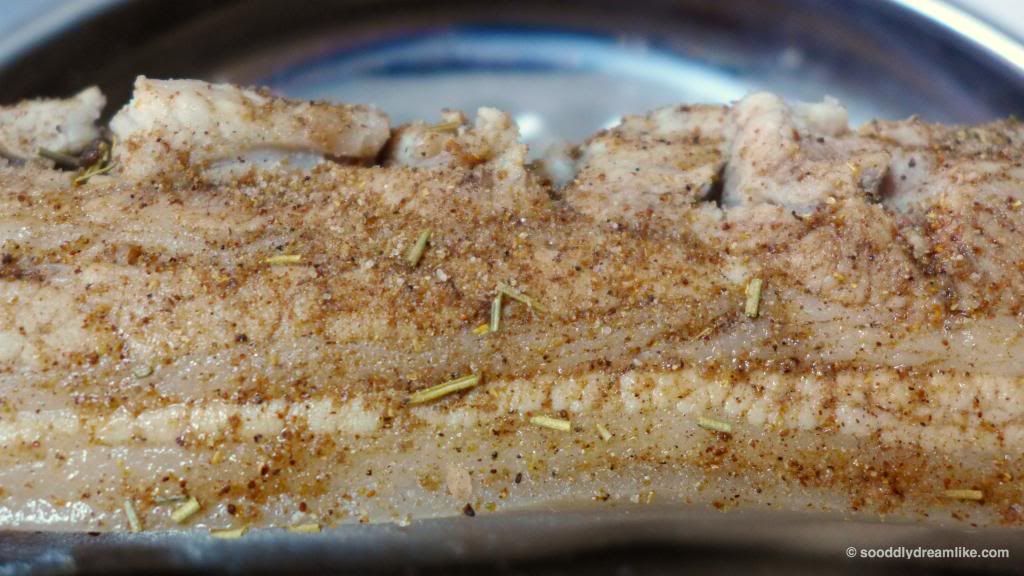 After air-drying, I scored the skin with a knife and pricked as many holes as I can because many recipes mentioned that the more holes, the crispier the skin. I didn't get the pricking tool but I discovered that it's quite easy to do so with a small fork (I used fork meant for small people, aka Joy) but don't try it with a large fork.
And then, I rubbed some salt on the skin and squeezed fresh lemon juice liberally all over the skin.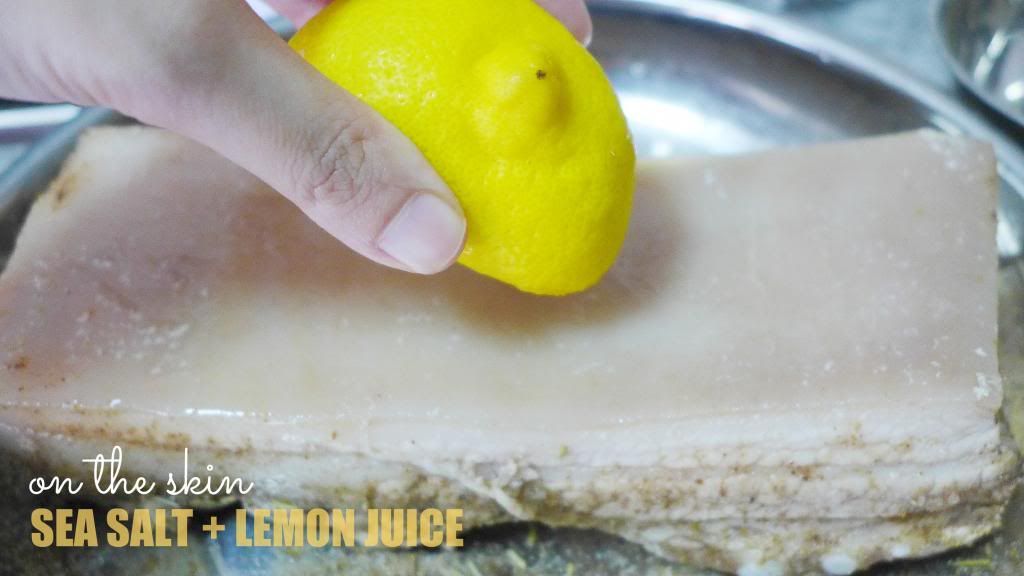 Next, I put my pork belly in the fridge to dry it up even more. By order, to prevent my meat from contaminating the fridge, I covered it up with a cling wrap. This picture was taken "before".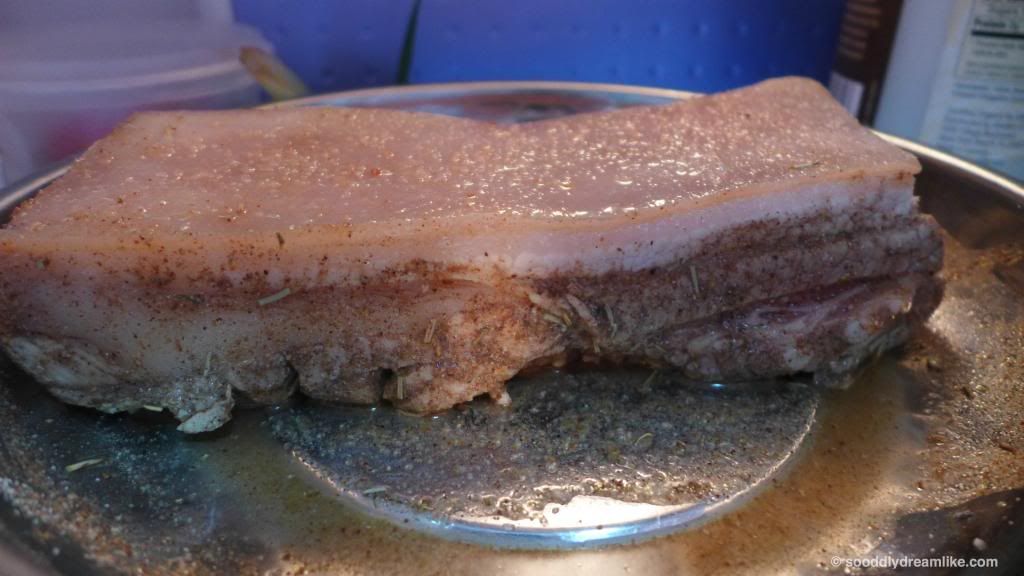 My pork belly was in the fridge from 4pm on Preparation Day to 11am on Roasting Day (next day), which makes it a total of 19 hours. Sounds like a long time but I did nothing in that time so, to me, it's not really a time cost. I was so bold as to ask our favorite roast pork stall owner if drying in the fridge is really necessary and he said "Oh, no need, just air dry for 3 hours also can". Now you know.
This is my pork belly, in my airfryer (after my airfryer was pre-heated for 5-10 mins at 160 degrees). 700g fits perfectly when placed diagonally, skin facing up (I typed this in specifically because someone close to me, ever faced the sides up and we ended up with Sio Bak that didn't look as good.)
Per the recipe, I let hot air circulate around the meat at 160 degrees for 30 minutes, to cook all sides evenly and retain more moisture. After 30 minutes, my pork belly finally started looking like sio bak (yay!). The colour was gorgeous but take a look at the skin… at this point, I was worried that the crackling wouldn't happen!
Still, I pressed on and set my airfryer to cook my sio bak (yes! I can refer to it as "sio bak" now!) for another 30 minutes at 180 degrees. That must one of the most excruciating waiting time for me in recent times. I resisted the (strong) urge to open up the "drawer" of the airfryer to sneak a peek at my roast meat ever so often. I learnt later on that it's totally ok to check on your meat if you want. In fact, the tray of the airfryer can be pulled out like a drawer and even hold it's own on a table, like this: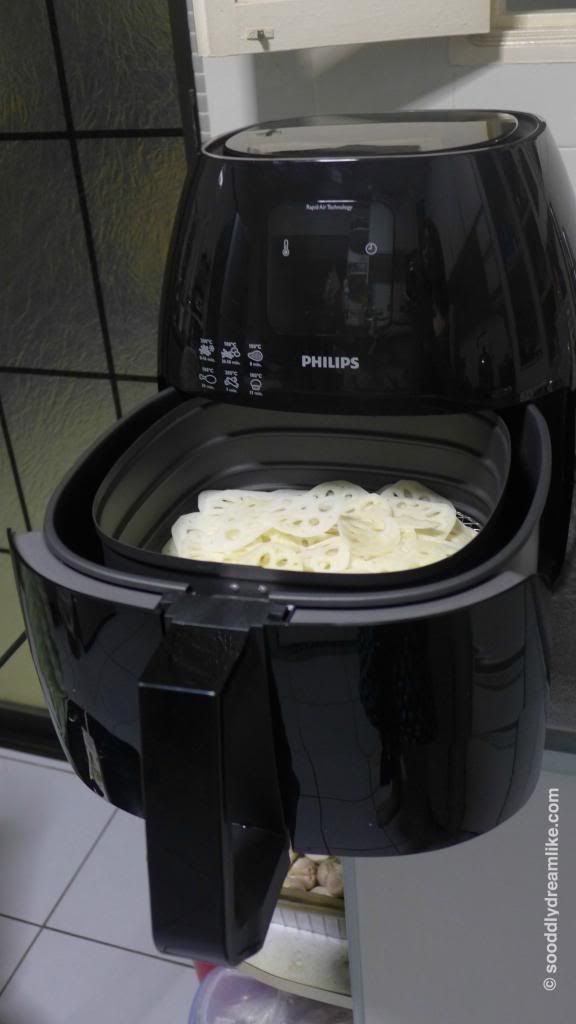 I was making reckon chips (180degrees @ 5 minutes approximately) with just a tablespoon of oil!
Since the airfryer allows me to control time and temperature precisely, I could totally go away and do something else but I hovered around anxiously. While waiting, I took this picture of the touch screen controls that made my life easy because it looked so classy. Gotta love technology!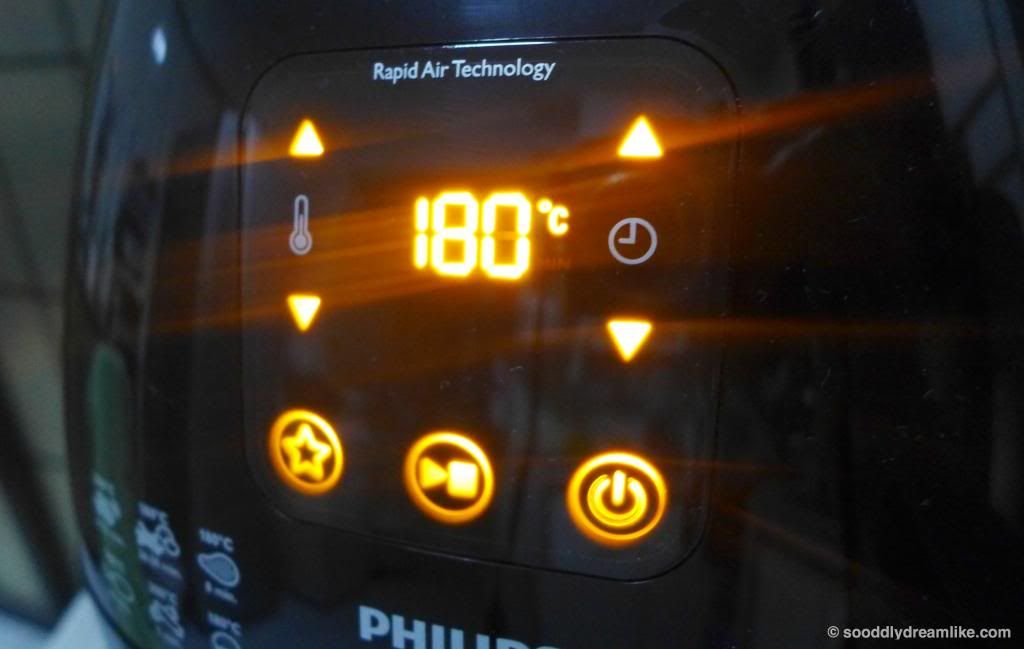 Time's up and tadahhhh, my sio bak turned out like this! 美美hor? (Beautiful, isn't it?)
I waited with bated breath while my sio bak rested in its tray. The new airfryer is much easier to handle than before because the tray can be easily lifted as a whole, no more pressing buttons when holding the handle (a problem the older range has).
The father-in-law helped me chop up my sio bak. His first comment after his first cut was "哇!真的很脆!" ("Woah! It is really very crispy!) and his second comment was "哇!真的很多汁!" ("Woah! Really very juicy!") #1 Impress the father-in-law – succeeded!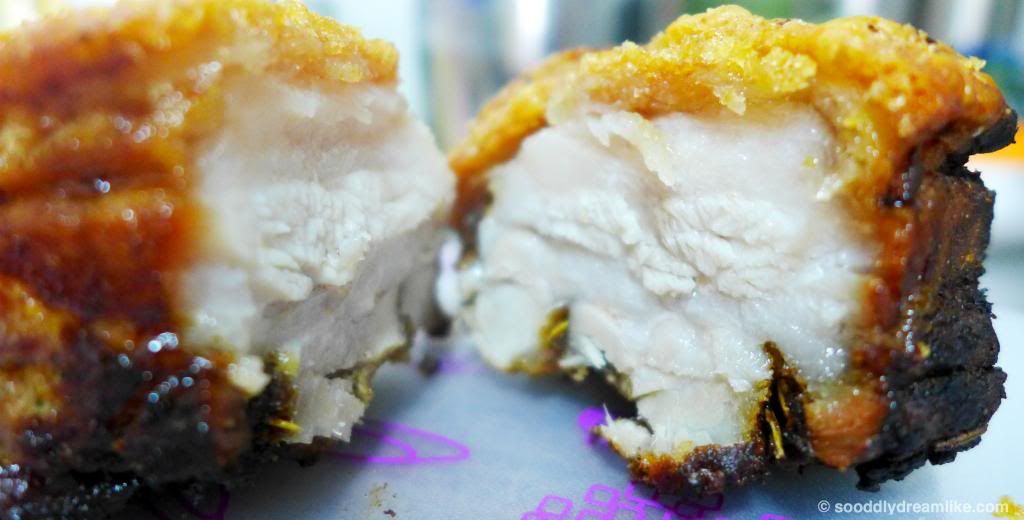 I no kid you, just look at this close up!